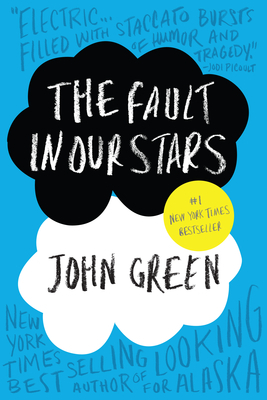 The Fault in our Stars Standalone Novel Rating: 3 Stars Release Date: January 10th 2012 by Dutton Books Young Adult – Contemporary – Romance Format: Ebook 
Add to Goodreads
Despite the tumor-shrinking medical miracle that has bought her a few years, Hazel has never been anything but terminal, her final chapter inscribed upon diagnosis. But when a gorgeous plot twist named Augustus Waters suddenly appears at Cancer Kid Support Group, Hazel's story is about to be completely rewritten.
——————————————————————————————————————————
WARNING: THERE WILL BE SPOILERS!
EXPECTATION: I had high expectations for this book. I have heard/seen countless praise for John Green and his books, especially The Fault In Our Stars. I knew the book was about cancer, so I expect different emotions to occur when I go through the book.
REACTION: Before you read this review and view it as negative, don't. I really like John Green as a person but this book just is not five stars to me. This is the first book I have read by John Green. I do own almost all of his other books but this is the first I have read. I was hoping to finish it before I watch the movie and I am happy I finished it. (Still have yet to see the movie, but I'm looking forward to it). There are many different details throughout the book that I enjoyed. I really liked how he talked about the Children's Hospitals and the difference between them and "regular" hospitals. Children's hospitals are always more colorful and bright compared to other hospitals. I myself, can vouch for that having been going to a Children's Hospital since before I was born. I definitely like them more. Anyway, back to the book, Augustus getting sick again wasn't really a surprise, I felt like it would happen that way, when I was reading it. It is still sad none-the-less. Hazel naming her breathing machine made me giggle since I have named my own. I can definitely tell that John Green wrote this book because I have watched his Youtube videos enough that his voice and his personality can be seen throughout the book. I think that the storyline is average, honestly to me it's just another cancer book. I think all of the characters were similar to each other. I think the humor in the book was not very fitting for the overall topic of the book. The conversations felt unrealistic. Maybe it's just me. I really liked the end of the book. I liked that the letter wasn't to Hazel. Overall I enjoyed the book and I'm glad I read it. I think the hype was just a bit much for me. I'm giving this a three out of five stars.
——————————————————————————————————————————