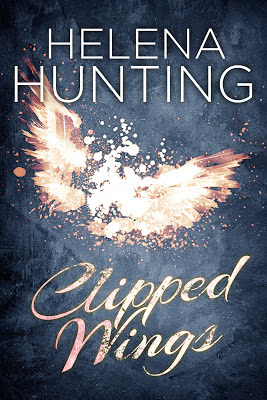 Clipped Wings Series Clipped Wings #1 Pages: 400 Rating: 3 Stars Release Date: 
March 4th 2014 by Gallery Books
New Adult  Format: Ebook courtesy of NetGalley
Click to add to Goodreads
An emotional love story that follows the touch-and-go relationship of Hayden and Tenley; two young people who desperately want to love and be loved but are afraid to completely let go of their pasts.

As Hayden and Tenley navigate their newfound but slightly unstable relationship, they want to trust each other, but Hayden is hiding a dark and shameful past that he doesn't ever want Tenley to find out about. And Tenley has secrets of her own that could make Hayden run away forever. When Tenley asks Hayden to put a beautifully elaborate tattoo across her back, the two form what they thought was an unshakeable bond. But when Tenley's past shows up on her doorstep, will Hayden stand by her side…or run?
——————————————————————————————————————————
Please be warned this review may/will have spoilers!
EXPECTATION: I'm not really sure what I was expecting from this novel. I didn't realize it was new adult until I had already started reading it. I thought it was an erotic adult novel. I expected a lot of romance and tattoos.
REACTION: I received this copy through Netgalley. (THANK YOU!) But honestly, the word spacing almost drove me nuts.
I love the tattoo aspect of the book and that it isn't just the "bad boy" image and that the tattoo culture is explained and explored in the book. Hayden was tired of tattooing college kids with butterflies. It was described as art.
BUT! The fact that she's so "innocent" and falls for the "bad boy" is still a bit cliche. Also the fact that she lives right across the street from his tattoo shop, works at the store under her apartment, the one that his aunt just happens to own. Oh, and the cupcakes she loves to bake that he loves to eat….so many coincidences.
Hayden was really relatable. He felt guilty about his parents death and that seemed realistic. Him dealing with it through drugs and alcohol was also something that seems realistic, especially for someone of that age. OCD (Obsessive Compulsive Disorder) should have showed up a bit earlier in the book in my opinion. The second half of the book really explained his OCD and it felt like it was more of a focal point. The beginning of the book was solely focused on Tenley. Cupcakes…that's a new one I guess but at the same time I feel like it was a bit overdone. His nickname "kitten" bothers me. I would almost need to see exactly what he looks like and how he talks for me to imagine this.
A lot of the drama in the book felt really unnecessary and unanswered. The professor, Trey, Tenley herself was drama filled and then the random cop. Tenley got mad about Hayden keeping secrets when she kept them herself! The tragedy that Tenley suffered felt overdramatized. I don't know, I understand it's traumatic and everything but the point of view for her felt really high school instead of college level.
I think the first time they had sex should have been from tenley's pov instead of Hayden's. Also, I felt like bringing up the fact that she bled after sex the first time and the discussions of his piercing were irrelevant since the story didn't really go anywhere with that information. I thought maybe it would have some importance in the plot but it didn't.
I loved the cat and how that came into the story, in a way I loved the cupcakes, Hayden's OCD, and in a way the tattoos and piercing culture.
The whole book felt like it was based around the sex, now I know it's supposed to be a romance novel but the plot was a bit lacking. If they weren't having sex with each other, they were talking about it or thinking about it. It was a bit much. Also, again with Tenley and her tragedy showing up in her thoughts during sex. Both of these themes were seriously overly done throughout the book. Tenley please stop trying to one up everyone! Everyone has shit they need to work through! Please get some confidence!
I was waiting for the finale with the (almost) brother in law. I felt like that part of the plot was long drawn out though. The ending was okay – I just feel like the book didn't really answer any of my questions. A bit frustrating but that is the point of a cliffhanger after all.
The cover is wonderful. I really like it, surprisingly. It's simple but really works.
This was my first new adult romance….not sure how I feel about the romance end yet. Sometimes some lines or phrases were repeated and I got that Deja vu feeling. Eh, maybe it was just me. Some of the language feels misplaced or like the author wanted to spice of the language.
——————————————————————————————————————————